Head Grounds Keeper
Sussex County Miners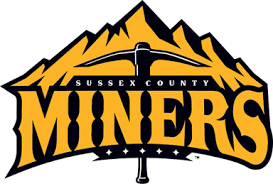 No Longer Accepting Applications
Location

Augusta, NY, USA
Job Type
 Job Description
Execute all field and bullpen operations including, but not limited to, turf management, fertilization, edging, base area, home plate and mound preparation, warning track maintenance, and infield surface maintenance.
Prepare the playing field for practice on game days and facilitate the set-up and breakdown of all equipment, including batting cage, screens, turf mats.
Prepare the field in a high quality and efficient manner in order to effectively facilitate the daily practice, pre-game and in-game schedule.
Oversee all tarp usage and post-game field and turf maintenance as necessary and monitor weather conditions to protect the field as needed.
Maintain all turf and landscaping areas (picnic area, commons, planter beds, etc.)
Operate and maintain all grounds equipment in order to extend its useful life while minimizing repair and replacement costs.
Prepare and perform off-season field maintenance and establish stadium program.
Assist the Operations Manager and General Manager with various operational duties related to the upkeep of ballpark on an as-needed basis.
Recruit, train and supervise part-time game day field maintenance personnel.
Other duties as assigned by the Operations Manager or General Manager.
Qualifications Required
Ideal candidate will have an Associates or bachelor's degree in Field/Turf Management or a related field and previous experience maintaining a baseball field or similar sports venue field.
Have the ability to operate athletic field / grounds management related equipment.
Ability to work flexible and/or unscheduled hours.
Experience managing staff is preferred.
High Customer Service and quality attitude, with great communication skills.
Ability to work under pressure and meet established goals and objectives.
Ability to multi-task and establish priorities.
Ability to maintain organization in a fast paced, changing environment.
Physical requirement (lifting 50 pounds many times per day, standing, squatting, and bending for long periods)
Pesticide application licenses a plus.