Hockey League Commissioner
Eastern Ontario Junior Hockey League (EOJHL)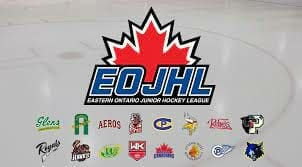 No Longer Accepting Applications
 Job Description
The new commissioner will represent and report to the Chairman and the Board of Governors, and advocate for them within the Hockey Eastern Ontario (HEO) framework.
The commissioner will preside at all meetings regarding Hockey Operations for the league and shall manage all duties imposed upon him/her by the constitution and by-laws of the league including:
general and active management of the business of the League and shall see that all resolutions, regulations, playing rules and policies of the League are carried out.
acting as one of the official representatives of the League in any dealings with Hockey Canada and Hockey Eastern Ontario.
creating committees and appoint members to committees as directed by the Board of Governors.
ensuring that minutes of Board of Governors meetings and hockey operations meetings are properly recorded, safeguarded and distributed to all Members within seventy-two (72) hours of the meeting.
appointing a person or persons to be the caretaker of the League's statistics, using the method or means approved by the League
being responsible for enforcing the rules and regulations of the League
Qualifications Required
The desired candidate should have a working knowledge of the EOJHL, its history and its present-day structure.
A good level of familiarity with other junior and minor hockey leagues in Eastern Ontario would also be an asset.
The individual should be able to lead a group of independent team owners towards a common vision and a successful future.
They should be a strategic thinker, with the ability to aid in developing the short- and long-term goals of the league.
The successful candidate should be able to demonstrate a high level of leadership, communication, integrity, flexibility, efficiency and possess an ability to manage conflict.
Experience:
management: 2 years (Preferred)
Language:
French and English (Preferred)