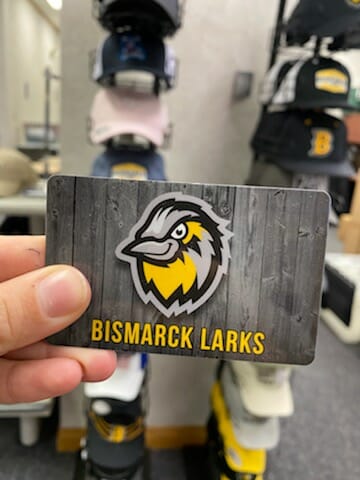 No Longer Accepting Applications
Location

Bismarck, ND, USA
Job Type
 Job Description
The majority of the time, the clubhouse provides the focal point of a baseball club. It often determines the way a player develops and the level of success he has both on and off the field. A well managed clubhouse offers a multi-functional facility, from providing a meeting room to acting as a second home to the players. As the Clubhouse Manager, you will provide exceptional customer service to players, coaches, team personnel, umpires, league officials, and special entertainment acts such as mascots.
The Clubhouse Manager will work closely with the operations department and other internal departments to assist with all operational and team needs. This includes but is not limited to equipment inventory management, clubhouse and dugout cleanliness and organization, and serving as a Larks representative at various promotions, events, Larks games and Funatix events.
Start Date: May 8, 2023
End Date: August 21, 2023 (dependent on post season play)
Academic Qualifications: Applicants should be studying a subject in a relevant field. This may include but is not limited to Sport Management, Event Management, Hospitality, Business, Marketing.
Roles and Responsibilities

Pre-Season Clubhouse Responsibilities
Equipment inventory
Uniform inventory
Cleaning & organization (coach locker room, player locker room, umpire locker room, bathrooms, showers, laundry room, washers, dryers, dugouts, batting cage area)
Distribute equipment and uniforms to each player & keep records of items distributed
Game Day Responsibilities
Umpire Liaison: Serve as point of contact for umpires as they arrive in Bismarck
Call hotel to verify rooms
Give them meal vouchers
Make sure umpire room is set before they arrive
Ensure they receive a high quality post game meal every game
Give gas receipt to GM for repayment
Laundry: Home & Visiting team (personals, uniforms, towels)
Clubhouse Cleaning: Home & Visiting team (tables, garbage cans, dugouts, water/Gatorade jugs, coach office), cleaning crew will clean bathrooms, showers, and locker room floors
Equipment: Issue any necessary equipment to players (keep records), bring umpires game balls, fill water coolers for both teams (equipment inventory sheets will be provided and should be filled out for any equipment given to players. Sheets should be kept on file for future reference)
Post Game Responsibilities
General cleaning the locker rooms
Food: Home, Visiting, & Umpires: Responsible for distribution and clean up of post game meal for the home, visiting team and umpires
Collect laundry (uniforms & towels) from locker room and begin for following day
Equipment pickup and storage
Any other request made by front office personnel
Qualifications Required
Availability to work all home games, team events and Funatix Events
The ability to work extended hours upwards of 14 hours. Late hours may be required after games to ensure team uniforms/laundry is ready for the next day.
The ability to lift 30-50 lbs
Proficient in Microsoft Office and Google Sheets
Strong verbal communication skills
Strong organizational and time management skills
Strong attention to detail
Must be a team player with strong leadership and communication skills
Must be enthusiastic with a desire to work hard and have a positive "can‐do" attitude
Ability to multi‐task and handle responsibility
Self‐ motivated and ability to take initiative