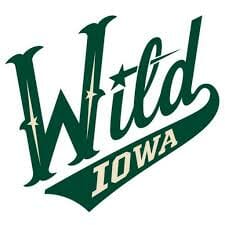 No Longer Accepting Applications
 Job Description
As our Social Media Manager, YOU:
Tell stories and create lifelong memories. We are in the business of creating lifelong memories. And you are in the business of creating those memories with shortened text, video, GIFs, photos, and emojis. :) The stories you tell will paint the picture of those memories evoking emotions such as joy, passion, strength, resilience, and pride. You might showcase a fan's first moment hearing the goal horn, the behind-the-scenes of an intense playoff push, or how the camaraderie of hockey helped a season ticket member overcome adversity.
Represent the voice and personality of the Iowa Wild. You constantly engage our fan base using real-time dialogue and interaction on various social media platforms. You inform fans on all things Iowa Wild 24/7 including live-tweeting games, releasing player news, promoting community events, selling tickets and more! Our social pages are a resource for fans to come for information and ask questions – and you are on the other side providing the answers. Our social pages are also full of personality and fun content – Wild babies and doggos!
Discover and stay on top of trends. How it started/How it's going? Can coach really floss? (insert Baby Yoda GIF here). Did we mention dog content? You will stay on top of trends not only in hockey, but in the world and adapt them to our brand message and our content strategy. You will have the resources to learn the latest and greatest in all things social and you will execute on new platforms to build our brand and take us to that next level!
Are a revenue driver. A large part of our success is connecting our community and business partners with our fans and driving revenue. With our mission always top of mind, you will create social strategies to promote ticket sales. You will also create mutually-beneficial, engaging, and Iowa Wild brand-centric sponsorship programs to sell to partners. You manage these assets and work alongside our corporate sponsorship team to execute and provide end results.
Execute strategic digital marketing campaigns and analyze data to improve ROI. You are the creative digital guru who increases our reach and engagement across Facebook, Twitter, Instagram, YouTube, TikTok and the next social platform that integrates well with our brand. You will drive our brand messaging and ticket sales by creating all-encompassing digital marketing campaigns inclusive of text/SMS marketing. You analyze the data throughout and take key learnings to continuously improve upon.
Qualifications Required
YOU ARE A:
Digital Innovator. Digital media is our jam and your experience developing, planning, and executing strategic marketing initiatives is a key to unlocking the Iowa Wild's potential for new audiences and revenue opportunities. To support this, you will need ample experience with design software to produce kicka$$ graphics! You are the content guru who has the drive to innovate, push creative boundaries, and always be ready to ask the, "what if?"
24/7 Connecter. Day or night, weekday or weekend. Connections matter. With our fans, with our community and with our team. And you are the catalyst for that connection. Approaching this job requires the time, flexibility and willingness to communicate, collaborate, and understand that the different gears of our organization work together as one to produce results.
Focused Executor. We believe big ideas reap even bigger rewards when managed effectively. Everything you do touches people, so flawless execution is non-negotiable. Your work can be fast-paced and it can be easy to lose sight of the details, but that's where the magic is at. With independent, self-motivation and task prioritization, you focus on getting things done quickly and flawlessly. Of course, you're not perfect, so when mistakes are made, you step up, take responsibility and issue meaningful apologies when you're wrong.
Servant Leader. At the Iowa Wild, everything we do is grounded in serving. You serve our organization, each other, our fans and our community. Leadership is not a rank, it's an acknowledgement of responsibility knowing you are connected to our team-oriented organization and the fans we serve.