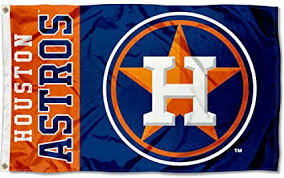 Job Description
This role is responsible for handling and supporting a wide variety of duties pertaining to the overall baseball and business communications efforts of the Houston Astros. The coordinator works with various other departments, members of the media and with vendors. The coordinator also supports various responsibilities of the communications team, including the production of publications, game notes and press releases, the execution of gameday duties and more. The coordinator plays a significant role in the communication team's efforts to strongly promote the Houston Astros players, executive team and front office staff as well as the initiatives of the various departments within the organization as a whole.
Essential Functions & Responsibilities:
Reasonable accommodations may be made to enable individuals with disabilities to perform the essential functions.
Contribute to Astros game notes and press releases. This includes writing, editing and proofreading.
Other writing duties include, writing for the club's Media Guide, postgame notes, offseason notes, minor league reports and business PR press releases.
On game days, oversee the press box by ensuring that game day material is delivered to the print media, the broadcast booths and the clubhouses; assist with creating lineup cards for media in attendance.
Responsible for issuing daily media credentials.
Support the Business Communications manager with creation and production of GameDay Magazine (includes writing stories, editing and proofreading content, and offering creative input).
Support the Business Communications manager with the promotion of the Astros Houston Open Golf Tournament.
Support Director, Communications on the planning and execution of the Winter Classic, Houston College Classic and other collegiate baseball tournaments held at Minute Maid Park (annually).
Assist with non-baseball duties for various departments, focusing mainly on marketing, foundation, sponsorship and ticketing initiatives.
Monitor media coverage throughout calendar year, which includes overseeing daily media clippings, as well as monitoring Social Media and online content.
Record all media requests for players, coaches and front office staff.
Assist with facilitation of media requests for front office staff.
Handle media relations at various off-site events (charity events, player appearances, etc.).
Perform other duties as assigned.
Qualifications Required
Bachelor's degree in Communications, Public Relations, Journalism or related field and/or equivalent experience
1+ years of experience working for a professional or collegiate sports team
Strong verbal and written communication skills
Strong attention to detail and promptness
Demonstrated quick learner with ability to handle multiple projects simultaneously and meet deadlines.