About
Jobs at
Atmosphere at
Similar Companies to
Cleveland Browns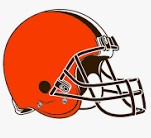 Cleveland Browns
Added September 2020
The Cleveland Browns are a professional American football team based in Cleveland. Named after original coach and co-founder Paul Brown, they compete in the National Football League (NFL) as a member club of the American Football Conference (AFC) North division. The Browns play their home games at FirstEnergy Stadium, which opened in 1999.
Cleveland Browns does not currently have active listings.
Similar Companies To
Cleveland Browns
There are currently no companies listed under this category.
Images For
Cleveland Browns