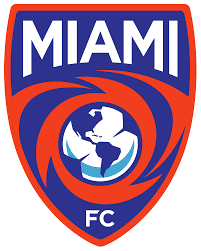 Location

Miami, FL, USA
Job Type
 Job Description
The Broadcast and PR Coordinator for Miami FC will be an internship designed role reporting to the VP of Marketing and would assist in the day-to-day Media Relations management for Miami FC. This role would also be extremely involved in the development of a new broadcast partnership being announced by Miami FC in 2023, and be active in helping to execute this partnership.
ESSENTIAL FUNCTIONS: 
Develop and organize event media outreach, including story development, pitching, organizing media day schedules and executing appearances and interviews.
Develop and execute promotional activities for events in tandem with marketing, sales, digital and operations departments
Develop relationships with media outlets to promote the club, including arranging interviews and other media exposure for Miami FC and its new broadcast partnership.
Create detailed pre-match, post-match stories and recaps as well as press releases to be distributed to all relative media outlets
Assist in collecting deliverables for all broadcast execution including graphics, commercial spots and animation content. Research and propose new public relations and broadcast marketing concepts
Assist in managing relationship with broadcast partner/s and any necessary league communications
Serve as point of contact for all league related media relations needs.
Oversee creation and management of 2023 Media Guide.
Manage and update a list of all media contacts (broadcast, print and digital)
Brief department personnel on event activities and provide an updated working schedule for each event.
Attend all Miami FC Home Matches
Respond to, or direct media inquiries in a timely fashion 
Qualifications Required
Bachelor's Degree from an accredited College/University required, major in Journalism, Communications, Marketing or a related field.
Exceptional communication skills (written, verbal and presentation.
Creative news-making abilities – conceive, frame and pitch stories.
Ability to work under deadline pressure and manage change.
Strong time and project management skills.
Ability to perform media interviews and if necessary be comfortable in front of a camera is a plus.
Knowledge of Spanish language and current trends in the Miami community is a plus.
Understanding and knowledge of the USL Championship and/or global soccer landscape is a plus.
Excellent teamwork and collaboration skills.
Must work all Miami FC matches, which include nights and weekends.
Be available to travel to select road matches as needed.
Must be able to work in a fast-paced environment, with ability to create content on the go.