Coordinator, Competition Services
Equestrian Canada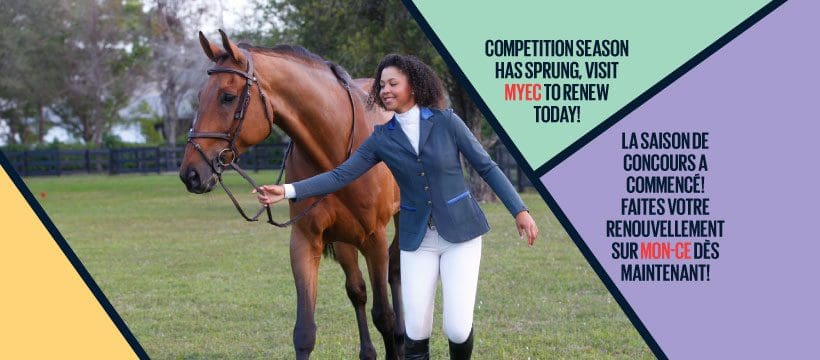 No Longer Accepting Applications
Location

Ottawa, Ontario, Canada
Job Type
 Job Description
The primary purpose of Equestrian Canada's (EC's) Coordinator, Competition Services is to complete the sanctioning process of all Gold & Platinum events, and work with the Provincial/Territorial Sport Organizations (PTSOs) for Bronze and Silver level events. This position supports and aligns with EC's strategic initiatives to ensure that all competitions sanctioned by EC meet the standards of the Rules of Equestrian Canada and Competition Administration Policy, which enables a fair and safe competition environment for all participants.
Job Summary
The following elements shall be integrated into the position:
Complete the competition sanctioning process
Post competition reporting
Validate competition results
Implement the gold & platinum date reservation process
Promote organizer education and communication
Administer Concussion protocol process
Contribute toward team and culture
Key Relationships
A critical element of the role is to ensure alignment of key stakeholders. Stakeholders include but are not limited to the following:
    Competition Organizers
    PTSO Competitions Staff
    Coordinator, Equine Medication Control
    Coordinator, Officials and Rules
    Programmer/Analyst
    Stewards and Officials
Qualifications Required
Receive, file, and enter submitted documents from competition organizers, ensuring they meet submission standards and deadlines.
 Verify the competition file is complete and adheres to rules, then finalize competition sanctioning within EC database
 Work closely with PTSOs to assist with administration of the sanctioning of bronze & silver events.
Communicate regularly with Coordinator, Equine Medication Control to ensure the roster of competitions is up to date for EMC program scheduling.
 Work closely with Coordinator, Officials and Rules in the application and interpretation of EC Rules regarding sanctioning, approval of Officials and submitted reports.
   Implement deadlines and late submission fees.
   Review and update forms annually, ensuring they reflect most recent policies and rules.
   Participate in project and work groups as an internal Subject Matter Expert.
   Assist with seasonal audit of PTSO administered sanctioning.